Elite 1K
Posts: 1383
Joined: 22 Dec 2014, 07:13
08 Sep 2017, 04:21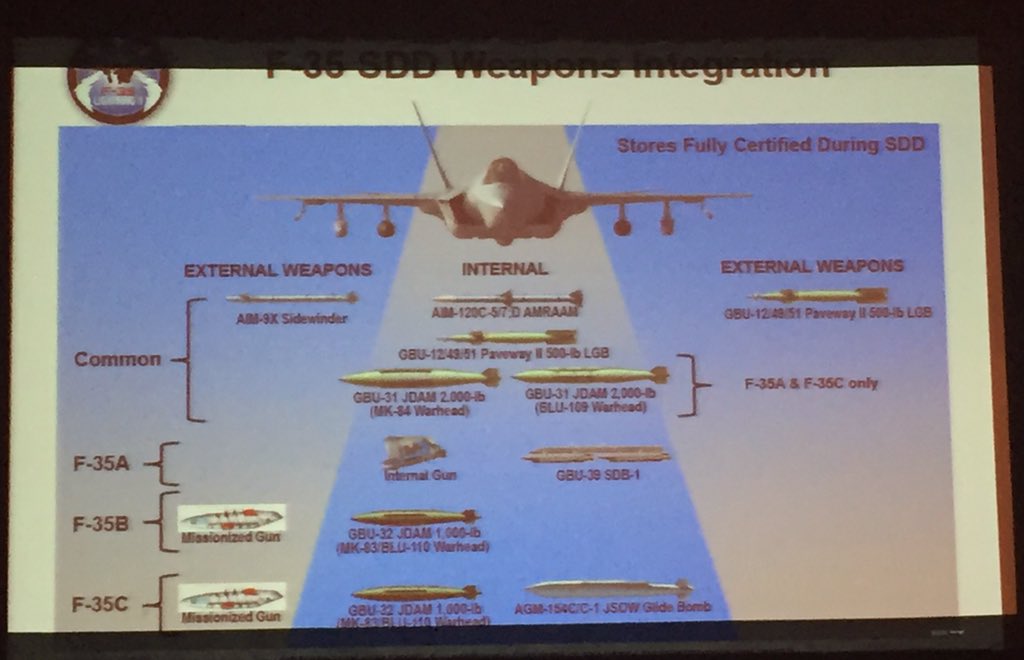 https://twitter.com/Oriana0214/status/9 ... 2582010881
This chart from the Defense News Conference is the latest (and very likely final) chart showing us what weapons have been / are being certified with Block 3F - most of it's old news, but there's a few items that weren't known to me previously:
All 3 variants get external AIM-9X, GBU-12/49/51, internal AIM-120C-5/7/D AMRAAM, GBU-12/49/51.
F-35A & F-35C get GBU-31 (Mk-84 and BLU-109) JDAMs.
F-35B & F-35C get gun pod and GBU-32 (Mk-83 and BLU-110) JDAMs.
F-35A gets internal gun and GBU-39 SDB-1.
F-35C gets AGM-154C / AGM-154C-1 JSOW.
So:
1. The jets are indeed getting the AIM-120D with Block 3F.
2. The F-35C will be able to use both 1000lb and 2000lb JDAMs (curious, but I suppose it aids flexibility when you have limited munitions aboard a carrier).
3. Only the F-35A gets the SDB, the Marines and Navy are waiting for Block 4 / SDB-II it seems.
4. The F-35C gets the AGM-154C-1 straight off the bat; the C-1 adds a 2-way Link 16 datalink for increasing its effectiveness against moving targets.