Enthusiast
Posts: 34
Joined: 06 Aug 2019, 16:03
09 Apr 2021, 01:31
https://www.edwards.af.mil/News/Article/2565856/412th-test-wing-conducts-weapon-separation-test-for-korean-f-16-update-program/
Edwards AFB posted news and photos of the upgraded KF-16!
It is sad to there is no tail code attached but still these markings of USAF on KF-16 is unique.
An F-16 assigned to the 416th Flight Test Squadron flies into position over the Precision Impact Range Area on Edwards Air Force Base, California, Feb. 26. The successful drop test was in support of the Korea F-16 Update Program. The ROKAF currently operates 133 KF-16C/D Block 50/52 fighter aircraft, all of which will undergo extensive modernization and upgrades as part of the comprehensive improvement program. Lockheed Martin was awarded a $1.2 billion contract to retrofit the 133 KF-16s and upgrade them to the advanced F-16V configuration, which is the latest technologically and most advanced version of the fourth generation fighter jet. This modification includes AESA Radar, Modular Mission Computer, MIDS-JTRS, JHMCS II and ALR-56M Upgrade, APX-126 and a Center Pedestal Display.
Also mentioned the KF-16 upgraded into the
F-16V Configuration
.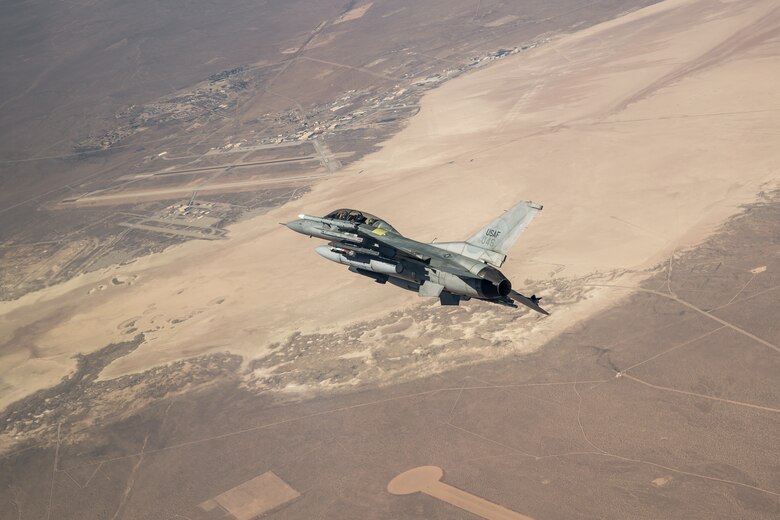 We need to update these photos on our forum and the database.