Enthusiast
Posts: 42
Joined: 26 Oct 2020, 09:37
09 Jan 2021, 12:01
eloise wrote:Too slow?. Even though they only fly at subsonic speed, these missile can still fly at around 1098 km/h, how fast can Buk vehicle travel? 40 km/h?
Just like that. Again and last time: subsonic weapons require tons of time to reach targets' area, it gives for enemy much possibuilites to shoot it down and to avoid backstrike. And it is no more than easy targets, as I had shown earlier.
eloise wrote:shootdown something in test where all conditions is perfect is quite a big different from doing it in reality when you are being jammed and attacked
Looks on April 2018 in Syria again. And you don't know that after firsts ECM countermeasures in Vietnam for every air defence complex designs "standart ECM surround", and nobody tests air defence complexes in "black sky" from that times. All ranges for radars and missiles recieved from tests, instead of theory calculation, like for SA-75: pulse frequency is 1Khz, so range will be 30km and that's all. And this "standart ECM surround" just makes more harder and harder in time, and it is overhelms all that enemy can make in real battlefield.
Look on the fatal accident above Black Sea in 2001. Civilian Tu-154 was shooted down by ukraininan S-200 and debris was founded at the point 42.11N, 37.37E. It is 340-360km distance from training site on Opuk peninsula in Crimea. But wait, wait! Is S-200 Vega-M has only 240km official range, isn't it? But it was happen, in reality.
So it is impudent american and jewish adverize needs to decrease for real battle surround (your MALD's picture is exellent example), in russian offical caracteristics is all had taken into accaunt already. Even more.
And for you and another "strategoses" like you it is a good option to think again about your stupidly and suicidal plans to dance right in front of official missile range. So, if you add few km more - can you affraid nothing?
eloise wrote:hocum wrote:If you would waste this kind of munition on every mid-range complex - what leave on core complex? Nothing. Is cruise missiles and anti-radars missiles endless? No, it purchase by dozens, sometimes hundreds, not by thousands in one fiscal year contract... Every year 2 Buk-M3 divisions produced/modernized from M1-2 since 2016.
I'm sure cruise missile is cheaper than a BuK radar vehicle, and it isn't like they produce thousands of Buk vehicle every fiscal year either
Total unserious. Man, you are making boring for me. Again sures, claims and spellcasts and nothing more.
Total stock of long range cruise missiles for all US military forces estimates at 6000 - 7000. For 5-7% efficiency - how many targets they would hit? About 500, and would left without pants for years, until this stock will restore at least partialy.
eloise wrote:The very core advantage of air power is force concentration,
We had told about force concentration already. It tends to tell by circle, round by round, it becomes not funny. You claimed that you answer to me for avoiding nonsense, but its looks like you try to overflood the topic.
eloise wrote:That decoy work purely on passive RF sensor and have no effect on the GPS/INS , MMW radar seeker of AARGM-ER. It also won't work on the EO seeker of Delilah and Rocks
Forget about your ARRGM-ER, it isn't ready. Simple ARRGM, dearest of all my friends.
Are you golden fish, with similar memory? Previous I had told bout aerosols, chaff, Gazetchiks - do you forget all? Or you need a picture? Here you go: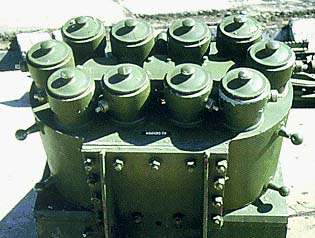 For NAVSTAR exist another boxes, which can placed by hudnreds kilometers away. Something like Shipovnik-AERO can substitute NAVSTAR's signals even. All it is parts of position area passive defence.
eloise wrote:Planes can also have multiple source of jamming and defend from multiple direction with self propelled decoys like MALD-N or SPEAR-EW, or if you want it cheap, they can also carry jammer that can fit in chaff dispenser
It can't reach even outer circle of active defence around core complex. Decoys can't imagine planes, just lauched munitions. Chaff in front of planes is very dangerous, causes to crash, and somewhere on the side it hides nothing. For 300 000$ per one MALD air defence side can fullfil al position area by all kind of decoys, even for every short-range complex will be at least some false positions.
eloise wrote:That thing doesn't even have a radar so it will have very hard time finding and tracking multiple target at the sametimes, then consider that it only have 148 rounds, it won't be able to fire for very long. Last but not least, cannon round are pretty inaccurate if target maneuver once the rounds are fired
A-10 surveys(wide FoV) at 7400m range, garbage like Bird Eye 400 at 700m range by its own. Traking (narrow FoV) possible at 12300m for assault plane, and at 4900m range for UAV. I had showed already how "inaccurate" is 2A38 cannons, requires a direct hits. Imagine by yourself how "inaccurate" will be S-60 cannon with shrapnel/prefragmented rounds and modern aiming system against subsonic cruise missiles, and especially loitering garbage.
148 rounds will turn to dozens of shooted down targets such this, with huge fire capacity, because it don't need to hold every target untill hit. It is also capable even against enemy infantry and armored vehicles, wich Thor is suppose to be very suffer in first line of land troops.
eloise wrote:Radio command still require target to maintain line of sight with your ground radar, once target dive below the radar horizon there isn't any thing you can do
Yep, yep, isn't. If it makes you more dreaming - of course. Mighty and advanced HARM block A could hold last position of target, but complete air defence complex can't guide missiles to the end of track... Or retargeting. Even S-125 can launch missile manually, before the target comes in range, but modern complexes can't - impossible, anonimus "eloise" from f-16.net have forbidden.
For antenna's altitude 5m at the range about 220-250km "under radiohrizon" will be lower than 3km. It is easy reachable by MANPADS and AAA. In practize nobody would do that, if this dandger exist on battlefield - all planes always lift up at least 5-6km altitude. But for this altitude line of sight will be about ~300km range.
Buk
S-350
Both S-300
Don't forget about some special mines for valleys and so on.
Main feature is to shout out as loud as air defence crew members can hear you: "I'm in sanctuary, under radiohorizon!", and you will be totally safe, and all will be well.