Newbie
Posts: 11
Joined: 04 Mar 2017, 10:51
04 Mar 2017, 11:28
Heya floks. Guess this is my first post in F-16.net
Well I've found several posts regarding KFX in F-16.net though not a general thread 'bout it and well, there is also a TFX thread, why not a KFX thread?
Anyways, back to the topic, I'll provide a brief explanation about KFX for those who were not interested in KFX until this moment or didn't even knew that S.Kor was gonna develope their own figther jet.
KFX project was first mentioned on 3rd of November 2000 so roughly about 16 and a half years ago when the former president Kim, Dae Jung attended the shipment ceremony of KT-1 basic trainer. There he declared that Korea will develop a indigenous fighter jet up-to-date at latest till 2015, which is not the case anymore. Then the ED of KFX took place and those of you who have seen some info-graphics regarding the size of various fighters seen from the top like :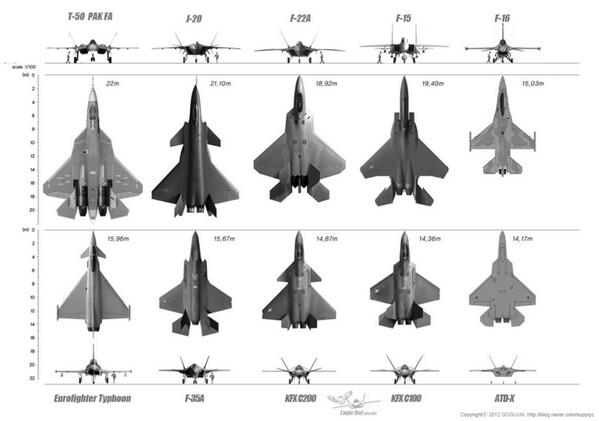 these, those c100 and 200 are the initial design models of KFX. (photos created by Korean blogger, Eagle Owl. Many of those unofficial KFX and TFX labelled KFX info-graphics like those above are from him, so thanks to Eagle Owl for easier comparison of fighters)
Anyways, KFX went through several ED processes though got stuck due to changing of president and parliament members, reported lacking of feasibility from various sources and most of all, lack or technology.
Due to those drawbacks, KFX took 14 years until late 2015 to get its system development started. Now ADD and KAI aims to put KFX into service by 2026, so in 9 years. KFX is being developed by KAI, assisted by the TAC Lockheed Martin, various other foreign comapnies and ADD of S.Kor, a DARPA equivalent.
This was a real brief history of development of KFX and is to be continued. If there is a request for it, I can go deeper into how KFX got to the point of it system development and production plan.
Next post is going to be about something very interesting.
PS - I've saw some former KFX related threads on other boards like F-16 versus XYZ or F-35 forum. Dunno if its appropriate to post a KFX thread on F-35 or F-16 board but is that somewhat available in F-16.net?
LCD Panel a warp gate to ultramundane