Elite 2K
Posts: 2208
Joined: 20 Oct 2005, 20:12
03 Dec 2005, 11:03
At Ahmed Al Jaber AB, Kuwait, as the former deployed location of the 332nd AEG (later 332nd AEW) especially the deployed F-16 and A/OA-10A Thunderbolt II ("Warthog") units leaved their footprints with painted unit markings on concrete Jersey barriers. For some years there was a lot of related pictures at
www.barrierart.com
. Unfortunately, all of this nice stuff meanwhile is deleted. Anyone who can provide such pictures? I need that for an OSW fact file in the upcoming section "F-16 Combat History" @ F-16.net.
Here´s the latest published sample: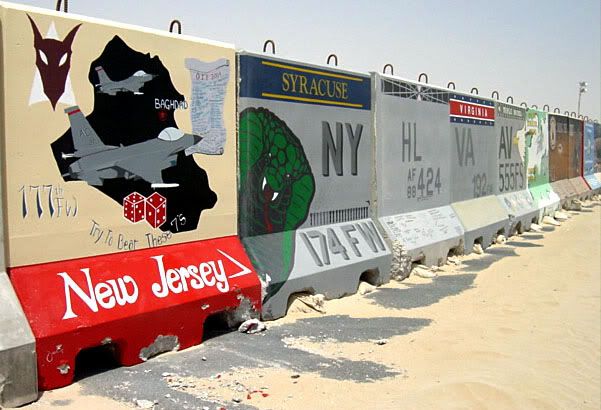 Original photo caption: Where are you from?
SOUTHWEST ASIA -- Painted Jersey barriers surround the flightline at one forward-deployed location. The paintings depict various Air National Guard units who have served at the installation. (U.S. Air Force photo by Staff Sgt. Colleen Bushnell)
Note from me: This picture (taken or registered on July 29, 2004) shows F-16 "barrier art" related to the following deployed units (from left): 177th FW (New Jersey ANG), 174th FW (New York ANG, "Syracuse"), Hill AFB, Utah (tail code "HL"), Virginia ANG (tail code "VA"), and 555th FS, Aviano AB, Italy (tail code "AV"). The others I can´t identify. According to my own deployment listings, this photo must be taken definite at Al Udeid AB, Qatar, deployed location of the 379th AEW, CENTAF Forward.