Elite 5K
Posts: 24257
Joined: 05 May 2009, 21:31
Location: ɐıןɐɹʇsn∀¯\_(ツ)_/¯
Warnings: -2
05 Apr 2013, 00:47
I'll link to old technical material on this forum about the requirements for the new VL pads for the F-35B. Even though some of the material will refer to MCAS Beaufort I'll guess that the generic construction method will apply to anywhere appropriate (including EngleLand?). Whatever. The 10Mb PDF specifically about the Beaufort pads has a monstrous amount of info so only a few bits will be excerpted here whilst the generic info is immediately below and easy enough to digest....
Some graphics can be attached whilst others not - I dunno?
______________
High Temperature Vertical Landing Pads – Pavement Materials
2012
Authors: L. Javier Malvar 1 (corresponding author) Paul Rossetti 1
"

ABSTRACT

The F-35B or short take-off and vertical landing version of the Joint Strike Fighter (JSF) is predicted to subject airfield pavements to extremely high exhaust temperatures, velocities, and heat fluxes during vertical landings (VL). These thermal loadings are much greater than what a conventional Portland cement concrete can withstand, resulting in a high foreign object damage potential from explosive spalling....

...Successful formulations were also tested under V-22 Osprey, F/A-18 Hornet, and AV-8B Harrier exhaust exposure and proved satisfactory as well.

INTRODUCTION | BACKGROUND

Short take-off and vertical landing (STOVL) aircraft, such as the F-35B Joint Strike Fighter (JSF), V-22 Osprey, and AV-8B Harrier, can subject an airfield pavement to extreme exhaust temperatures during vertical landing (VL) events. In addition, modern aircraft and internal or auxiliary power units (e.g. F/A-18] produce relatively high sustained thermal loads on pavements. Previous studies showed degradation of conventional PCC pavement surfaces from repetitive thermal exposures after a few months of service with maximum pavement surface temperatures as low as 325°F (163°C) [1,2]. Pavement failures can be attributed to the following causes:

1) The creation of large compressive thermal stresses parallel to the surface, which would produce not only concrete crushing, but also a bulging instability, similar to buckling, of the top layer. These horizontal compressive stresses are accompanied by vertical tensile stresses that start to build up below the surface [3].

2) A significant reduction of the concrete strength due to spilled oils which decompose the cement paste at high temperatures [4, 5, 6]. Coupled with the thermal stresses these can result in surface spalling after a few months of repetitive exposures to F/A-18 (or B-1) auxiliary power unit (APU).

3) At higher temperatures, such as those generated by the AV-8B or the JSF core (main) engine exhaust (during a VL) the very high internal pressures caused by the heating of entrapped water, water vapor, and air, can result in immediate spalling [1, 7]. This third failure mode has been reported to occur when the pavement temperature reaches the critical point of steam around 705ºF (374ºC) and the generated pore pressures increase dramatically [8]. Previous research by the Naval Facilities Engineering Command (NAVFAC) Engineering Service Center (ESC) showed that spalling could occur even prior to that, around 500ºF [9]. Spalling from trapped water is expected to be a primary mode of failure for JSF VL operations.

4) For such high temperatures, a fourth mode of failure can be aggregate or paste decomposition, if the aggregate is not heat resistant, or if the paste cannot sustain the high temperature.

PAVEMENT MATERIALS
Approach

...

...2) Materials developed in-house were assessed for suitability.

In particular lightweight concrete mixes used previously for the AV-8B were assessed. While these mixes had shown deterioration under actual JSF engines, this deterioration was very superficial.

...-

Since spalling from trapped moisture is expected for concrete temperatures starting around 500 to 705°F (260 to 374°C), and 500°F could develop at depths as low as 0.04 inches, very thin layers of pavement are expected to spall at each cycle, until aggregates are dislodged.

- While spalling is expected approximately within the projected nozzle area, the heat flux is at a maximum along the edge of the projected nozzle area, and spall initiation could be expected there....

...

REINFORCEMENT

Standard airfield concrete pavements are typically constructed with small concrete slabs separated by joint sealants which allow for temperature and curling movements. For the JSF no known joint sealant has been found that can survive the main engine exhaust temperatures during a VL. Hence, the 100 by 100 ft (30.5 by 30.5 m) pads, which were constructed as five 20 by 100 ft (6.1 by 30.5 m) lanes do not include any joints (except for the construction joints between the lanes, which are kept closed) (Fig. 3). Instead this area is constructed of continuously reinforced concrete (CRC) in both directions (Fig. 4). This prevents the possibility that the jet exhaust could get into a construction joint and erode the subgrade. This is also a concern because a pressure differential of 1 psi will lift a 12-inch thick concrete slab. The VL pad is surrounded by a 50-ft wide safety zone which is constructed with standard jointed concrete slabs. In the safety zone ablative joint sealants are used, which can survive a limited number of exposures to VL landings – this is deemed sufficient since the aircraft is not supposed to land there except in an emergency. The safety zone is surrounded by a 10-ft shoulder (Fig. 3 and 5)....

...

CONCLUSIONS

High temperature pavement materials were developed which can withstand 500 exposures to the main engine exhaust of the JSF. An Engineering Technical Letter (ETL 10-4) and an interim Unified Facilities Guide Specification (UFGS 32 13 99) were developed which summarize the materials and VL pad construction requirements."
https://transportation.wes.army.mil/tsw ... 0Paper.pdf
(400Kb)
http://i98.photobucket.com/albums/l261/ ... dSMALL.gif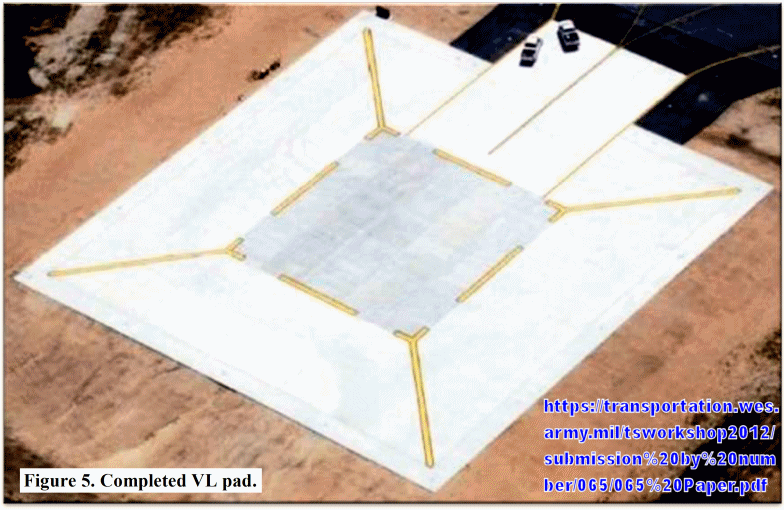 ___________
The info about MCAS Beaufort will follow after a delay due to grahics not able to be attached here again.... Otherwise an incredible amount of info about this topic (including 'how to make them') is in the 10 Mb PDF here:
VERTICAL LANDING PADS FOR THE F-35B
MCAS Beaufort
http://www.proconstructinc.com/jobs/TEA ... 1_OF_4.pdf
(10.5Mb)
http://i98.photobucket.com/albums/l261/ ... dSMALL.gif
______________
ONLY a CLICKable thumbnail BElow here because otherwise the image is TOO LARGE for this forum ease of viewing....
Last edited by
spazsinbad
on 05 Apr 2013, 01:46, edited 6 times in total.
A4G Skyhawk: www.faaaa.asn.au/spazsinbad-a4g/ & www.youtube.com/channel/UCwqC_s6gcCVvG7NOge3qfAQ/videos?view_as=subscriber