Elite 5K
Posts: 6423
Joined: 16 Oct 2012, 19:42
17 Jan 2020, 01:47
irt wrote:

Again just lol...
you were proven wrong and your rebuttal was an insult-- once again proving my point. you have no numbers. only parroted claims.
You have nothing other than repeating false claims that your now trying to cover to save face.
irt wrote:[q
Poland get 1 spare engine... ONE!

and? you still don't know what Brazil is getting. "one!" speaks volume about the mechanical reliability of the powerplant as well.
Again hit me with counter evidence. People have been waiting years to see the Brazil deal. liars like yourself have been misconstruing it since it was inked. just like you did they drop some lines when someone says "oh what does that include? how much? how many" they have no answers.
again if you can produce it I'll be happy to see it as will the whole internet. I havn't seen it produced yet
Brazil pays the same price anyone else would.
that's contradicting yourself. should be obvious how too.
Denmark got a big discount like the other F35 nations because they were promised a plane with "affordable stealth" when they joined the program, as a replacement for their F16's. No one expected the F35 to be the most expensive fighter in the world when it was time to place the orders to replace the F16.
how much was the discount?
most expensive fighter in the world? not even close
Where is the "affordable stealth" discount that all the F-35 partners get in the line by line? I must have missed it. What is the percentage or dollar amount? how much? I'm very curious about this.
]Looking at the cost per airframe today then the F35 is cheap.
hey look it can learn
Its the cost of operating the F35 that makes it expensive.
compared to what? again if an F-35A comes in at or around an F-16 and a Gripen E comes in at around an F-16, well that makes the Gripen E far more "expensive" as once again these are not 1 for 1 comparable; and the cheap light fighter shouldn't cost near what an F-16 does should it? whats the point of it then?
Of course the "full transfer of technology" only includes what technology Saab owns.
so not what you claimed until you were proven wrong?
the next gen Gripen is not cheap enough to warrant forsaking other options. when a Super Hornet and Gripen E cost about the same, but the Super Hornet does everything about twice as well, this is kind of a no brainer. Gripen E falls short of F-16 and F-18 capabilities in some pretty key metrics, and thats before we realize the F-35 is replacing F-16s and F-18s all over the globe and is a vast improvement. In order for a Gripen to be competitively viable the cost is going to have to be far more attractive. roughly speaking it needs to be about 50 percent of the cost of its competitors its not. and its not ever going to be. thats why theyre hyping the "full transfer" meme, but forgetting that's pretty limited too.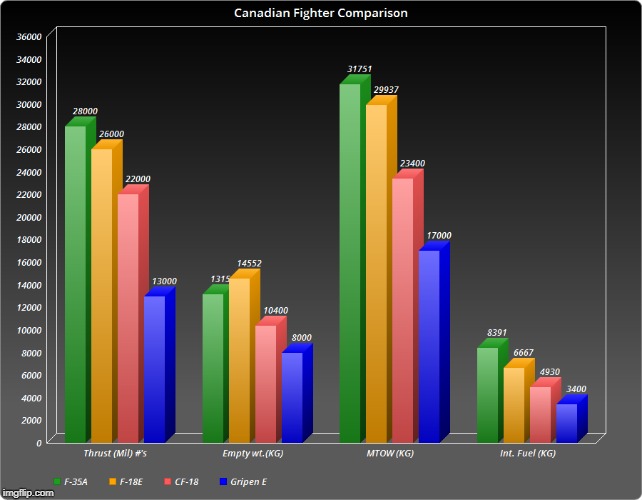 the way this is supposed to work, the way it worked with the original gripen, is that it was about "half the cost" of the F-16 but about "80 percent of the capability." Make its a good value at a low cost. Thats not the Gripen E at all, the cost vs capability is abysmal. they botched it. what happens when the Gripen E is 80 percent of the cost at 50 percent of the capability? you sell them to brazil and tell them they get "full tech transfer" of a fraction of the airplane so they can hopefully sell knockoffs to...?
Do you have anything to add thats like actual numbers? or is "again just lol" all you have?
Last edited by
XanderCrews
on 17 Jan 2020, 02:21, edited 4 times in total.
Choose Crews