Forum Veteran
Posts: 600
Joined: 25 Dec 2015, 12:43
16 Jan 2017, 19:48
zero-one wrote:No one said he was in full AB, the Raptor's dry thrust is so great that it would have great turns in dry or minimal AB
F-22 if in dry thrust will have much lesser T/W compared to F-15 or F-16, and it would still quite bright in IR spectrum at close range
zero-one wrote:Where did we get that statistic from? According to this claim, the Raptor shot down all 8 of its opponents, now I remember some claims saying that 2 were shot with Aim 9Ms, and 1 shot with a gun. Now given that the Raptor can only carry 6 slammers,
That makes the break down like this:
5 kills with the AMRAAM (1 missed)
2 kills with the 9M
1 kill with the gun
That doesn't really make sense to be fair. They do not actually launch the missiles so how could there be a missed ?
zero-one wrote:now even if that claim wasn't true, that puts the maximum number of BVR kills to 6
F-22 taking advantage of its stealth characteristics can get behind those F-15 to launch its AIM-9X
zero-one wrote:Lastly, Raptor pilots routinely train for WVR engagements against F-15s and F-16s and the reports from both Raptor pilots and 4th gen pilots (with HOBS and HMCS) have been nothing short of glowing

https://theaviationist.com/2012/12/10/viper-dogfight/

Here an f-16 pilot was asked how well his plane stacks up against others in a dogfight not BVR. and against the F-22 heres what he said
There is no indication in that article that those F-16 used HMD and HOBS missiles. In fact, there are many indications that they simulated gun combat: aggressor F-16 use ACM pod ( the thing at wing tip) instead of actual AIM-9X, mentioned of trying to get F-18 in HUD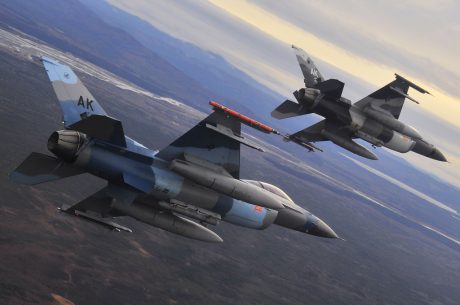 zero-one wrote: the problem is that HOBS missiles aren't look and shoot weapons that will automatically lock on to anything you look at, the sensor of the 9X needs to recognize what you're looking at first before it can get a lock
The sensor doesnot need recognize time if you look at target before you shot, if you looks at target then it will just register the center shape as target.
zero-one wrote:Well unless we have a counter claim, then I'd have to believe what the pilot says. I'm in no position to dispute that, sure it seems impossible, but maybe that explains the export ban, that explains the top speed numbers which are still classified to this day.
The counterclaim is in its KPP value.3.7G at Mach 0.9 , 30k feet is similar to F-15.Between pilots words and program documents i gonna have to go with the document here.