Senior member
Posts: 484
Joined: 05 Aug 2015, 21:11
30 Jun 2016, 23:26
I found this. F-22 "classified range" found on some LM article I found, and aparately it's no slouch. Official combat radius of around only 750 km which is low because of supercruise for a long time at 100 nautical miles. However with tanks it can go up to 1600 km even on ground attack configuration rivaling the Rafale. I know tanks might compromising stealth, but the F-22 superior sensors can get the first look or jettison their tanks and pylons before combat starts.
F-15E combat radius with 2 bombs not so much even compared to the F-22. It just shows a fighter that can go 1900-1200 km combat radius is severely degraded by drag of his missiles, targeting pods, and bombs.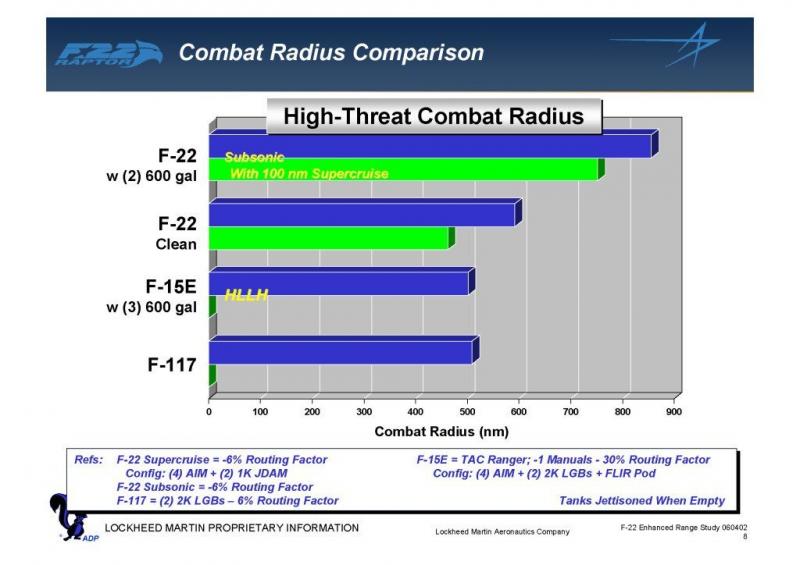 If F-22's combat radius is up to 1600 km with 2 JDAMs, it's air-air combat radius much greater. I believe the official combat radius of the F-35 is <590 nm for the A model, but can go up to 1350-1400 km on air-air mode. How much does range degrade with just internal loads between an AAM and bomb?
It's surprising the F-15E combat radius is so degraded by bombs in the chart. Isn't the F-15C combat radius 1900 km, and the F-15E around 1200 km?
Last edited by
armedupdate
on 01 Jul 2016, 00:19, edited 1 time in total.